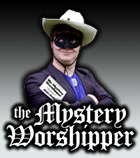 Comment on this report, or find other reports.

Our Mystery Worshippers are volunteers who warm church pews for us around the world. If you'd like to become a Mystery Worshipper, start here.

Find out how to reproduce this report in your church magazine or website.
Editor's choice
Something Special


> Unresolved yesterdays at Trinity Cathedral, Phoenix, USA
> Yodeling mass at Augustinerkirche, Zürich, Switzerland
> Quiet reflection: Pride Service, Bristol Cathedral, UK
> High as it gets: Alban Pilgrimage, St Albans Cathedral, UK
> Liturgical Performance at St Paul's Cathedral, London
> Fools for Christ at All Saints, Haggerston, London
> Pontifical vespers, new organ: Sts Simon & Jude, Phoenix
> HM The Queen turns 90: Worcester Cathedral, UK
> Lay ministers honoured: All Souls, Langham Place, London
> Holy Chaos at NoorderLichtkerk, Zeist, The Netherlands
> Haydn's Last Words of Christ: St Catherine's, Montacute, UK
> Passion mime at Trinity Lutheran, Phoenix, USA
> Ashes and light rail: Ashes To Go, Phoenix, USA
> Transcendent moment at Grace Cathedral, San Francisco
> Rehearsal for Rapture: Everfound, White Rock Baptist, USA
> Transported to heaven: Rush-bearing at Forest Chapel, UK
> Boorish choir at liturgical concert, St Sava, Phoenix, USA
> "Miserable offenders" aboard the RMS Queen Mary 2
> Medieval Dominican Rite mass: St Vincent Ferrer, New York
> Bishop consecrates Church of the Advent, Lillian, USA
> Rise up! National Memorial Service, Christchurch, NZ
> Highway 95, Nevada: Nuclear Stations of the Cross
> Pagan Samhain, Nine O'Clock Community, Sheffield, England


Famous & infamous


> Robert E. Lee nephew preaches at Epiphany, Tempe, USA
> Devil gets his due at Schlosskirche, Wittenberg, Germany
> Whiff of the museum: Huguenot Church, Charleston, USA
> Close to heaven: National Pilgrimage, Walsingham, UK
> Distractions abound at St Georgenkirche, Eisenach, Germany
> Messily hierarchical: Monastery of Simonopetra, Mt Athos
> Pushed away at Holy and Great Lavra, Mt Athos
> Warmed at Community of St Anselm, Lambeth Palace, London
> Holy but weird: St Anthony's Monastery, Florence, USA
> Foretaste of eternity: Brixton NT Church of God, London
> No peace for the saints at Guards Chapel, London
> Dichotomy at Saint Paul Community of Faith, Denver, USA
> Perfect! Chapel Royal of St Peter ad Vincula, London
> Bodyguard for priest at St Patrick's Cathedral, NYC
> Organ speaks at St Malachy's, New York City
> Mountains and palms at Furnace Creek, Death Valley, USA
> Nice but no pancakes at Old North Church, Boston, USA
> Incense triggers alarm: Blessed Sacrament Shrine, USA
> Relaxed and at home: Cathédrale Notre-Dame, Paris
> Dedication remembered: Little Flower Shrine, Royal Oak, USA
> St Lucy honoured at Gustaf Adolfs Kyrka, Liverpool, UK
> Surreal re-opening of Shrine of St Walburge, Preston, UK
> Zebras in the sky: Jehovah's Witnesses Convention, UK
> A new religion? Glide Memorial, San Francisco, USA
> Vicar of Baghdad preaches: Holy Trinity, Clapham, London
> No shortcuts at Zionskirche, Bielefeld, Germany
> Land Rovers and Lurex at St Winefride's, Holywell, UK
> Honour tinged with irony: St Bart Cathedral, Frankfurt
> Rolling splendor at Cristo Rey Monastery, San Francisco
> Punch-drunk ecstasy at St Paul's Cathedral, London
> CS Lewis in Poets Corner, Westminster Abbey, London
> Thoughtful, inclusive Ascension Day: St Martin-in-the-Fields
> Pomp and splendour at Dome of Home, New Brighton, UK
> Accession Day at St Mary's Priory, Lancaster, UK
> Walsingham anniversary celebrated at York Minster, UK
> Bishop Eddie Long delivers his "fighting statement"
> Rev's minus 1 at St Saviour in the Marshes, London
> Queueing to see the Holy Shroud, Turin, Italy
> Martyrdom of Oscar Romero: Westminster Abbey, London
> Unpleasant staff at Westminster Abbey, London, UK
> Communion on the Net with Post the Host, YouTube
> St Mark's Basilica, Venice, Italy
> Church of the Holy Sepulchre, Jerusalem
> Shrill music, friendly people at St Pixels, the Internet church
> Martyrs' Celebration, Lowndes County, Hayneville, Alabama
> Rev. Billy at Mark's-in-the-Bouwerie, NYC
> Visiting the world's smallest church, Oneida, NY, USA
> Preacher of the Year, London, fails to set hearts racing
> The United House of Prayer, Roxbury, Boston


Hail & farewell


> Bishop consecrated: Duke University Chapel, Durham, USA
> New curate licensed at St Mary's, Liverpool, UK
> Rector pays it forward at St Peter, Upper Beeding, UK
> Presiding bishop preaches: Christ Church Cranbrook, USA
> Cake and fireworks at Laird Street Baptist, Birkenhead, UK
> Well done, Vicar! St Stephen, Birkenhead, Wirral, UK
> Nautical & nice: St Nicholas with All Saints, Wallasey, UK
> Flat, lacklustre last day at St Bernadette's, Liverpool, UK
> Roses & peregrine falcons: Reveal of the Tomb of Richard III
> Bishop Suffragan of Burnley consecrated: York Minster, UK
> New superintendent welcomed: Newham Circuit, E. London
> Kursk Root Icon visits St Elisabeth, Wallasey, UK
> Outgoing pastor fruitful at Honor Oak Baptist, London
> Time to let go: New Church, Cranbrook Road, Bristol, UK
> Duke's Regiment returns to St Anne's, St Annes on Sea, UK
> Overflowing with thanks at St Paul's Cathedral, London
> St Anthony's relics visit St Francis of Assisi, Chester, UK
> Minister inducted at Drybrook Community Church (URC), UK
> New priest's first mass at Incarnation, Dallas, USA
> "You're joking!" Don Bosco's relics at Liverpool Met, UK
> Merely an observer as Bishop of Chichester is enthroned, UK
> Rocking and swaying at ordination of Bishop of Atlanta, USA
> St John Vianney's relic arrives: Liverpool Met Cathedral, UK
> Induction wants cheering up: St Mary the Virgin, Mold, UK
> Bishop consecrated at St John the Divine, New York City
> Loyal and faithful virger installed: St Paul's, London
> Bishop closes the church: Holy Spirit, Phoenix, USA
> Vicar installed but no rapture: St Andrew's, West Kirby, UK
> The new bishop is enthroned: Southwark Cathedral, UK
> The bishop retires: Lincoln Cathedral, UK
> Welcoming the relics of St Thérèse, Mt Carmel, London
> Installation of the 11th Archbishop of Westminster, England
> Didgeridoos salute Australia's first woman bishop
> The dean is seated: Trinity Cathedral, Trenton, USA
> Investing the Bishop at Grace Cathedral, San Francisco
> Billy Graham's last crusade? – in Queens, NYC


Interfaith


> Common prayer at Sacred Heart Basilica, Notre Dame, USA
> From Conflict to Communion: St Andrew, Grand Rapids, USA
> "At One Table," Römerberg, Frankfurt am Main, Germany
> Act of Worship at Cambridge Theological Federation, UK
> Greatest Story Ever Told: Trafalgar Square, London
> Day of prayer for peace: Catch The Fire, Toronto, Canada
> Crucifixion on Victoria Street: Walk of Witness, London
> Social justice preached at Occupy Wall Street, NYC
> The Qur'an read in a synagogue in Bloomington, Indiana


Greenbelt Festival


> A missed opportunity at Greenbelt Festival 2014
> Fire, mud and cupcakes at Greenbelt 2012
> Not perfect: Greenbelt Communion 2011
> Communion seen in a mirror at Greenbelt Festival 2010
> Here comes the sun... communion at Greenbelt 2008
> Pinning prayers to a tree at Greenbelt's Communion 2005
> Sharing communion with a damp backside: Greenbelt 2001
> Cyberfeminist eucharist at Greenbelt 2000
> Worship in a field at Greenbelt 1998


The Pope


> Pope Benedict visits Westminster Abbey, London
> Pope Benedict praises Pope Pius in St Peter's, Vatican City
> Inauguration of Pope Benedict XVI


The Archbishop of Canterbury


> Pure spiritual delight: St Patrick's, Saul, County Down, UK
> Politics and dancing at Down Cathedral, Downpatrick, UK
> Question time for the ABC: St Edmundsbury Cathedral, UK
> Absurd become reasonable: Archbp of Canterbury installed
> Suffragan bishops consecrated at Southwark Cathedral, UK
> Archbishop opens Advent: St Martin in the Fields, London
> General Synod comes to York Minster, York, UK
> ABC meets US Bishops, New Orleans, USA
> Preaching (again) in All Saints, Margaret St, London
> Preaching in All Saints, Margaret St, London
> Enthronement in Canterbury Cathedral


New York 9/11 and London 7/7


> Homespun 9/11 commemoration: St Paul's Chapel, New York
> Remembering the victims of 7/7 in London one year on
> Service of Prayer with Tony Blair, St Thomas, New York
> Day of Remembrance and Hope in St Bart's, New York
> National Day of Prayer in Sacred Heart, Newark


Weddings


> Seeing God face to face at St Paul's, Oakland, USA
> The bride wore gold, the groom red, in Emmanuel, Leeds


Millennium reports


> Cyberfeminist Eucharist at Greenbelt 2000
> Chautauqua Institution, New York
> Millenium Mission, Sheffield Arena
> Songs of Praise, Millennium Stadium, Cardiff
> Men in huge coloured ties at the Millennium Stadium, Cardiff
> Millennium fanfares in St Paul's Cathedral, London


Funerals


> Tickelled pink at Worcester Cathedral, England
> Ken is at peace: St John's, Deptford, London
> Called home: Hot Shots Memorial, Prescott Valley, USA
> A road that few take: Baroness Thatcher's funeral, London
> Remembering our Community Editor, Erin Etheredge
> Service of thanksgiving for Gambit, one of our shipmates
> The funeral of Miss Molly in St Mark's, Salt Lake City
> Fr David Paget's funeral in St Andrew's, Fulham, London
> Among the powerful at the State Funeral of Pierre Trudeau


Ordinations


> Palpable sense of God at Ordination, Birmingham Cathedral
> Ordination, Methodist style: Desert SW Conf., Glendale, USA
> Love Jesus and his gospel: Ordination Mass, Notre Dame, USA
> Christ leads at Lucernarium, Moreau Chapel, Notre Dame, USA
> First mass: what would Luke and John think? South Bend, USA
> Walk Christ's path: Lucernarium, Notre Dame, USA
> Concentrated joy: Basilica of Sacred Heart, Notre Dame, USA
> Deacon makes chalice: Moreau Chapel, Notre Dame, USA
> Glimpses of heaven at archbishop's ordination, Suva, Fiji
> Ordination amid blend of traditions: St Joseph, Guildford, UK
> Bishop gets calling card: St Simon & St Jude, Phoenix, USA
> Popping flashbulbs in St Woolos, Newport, Wales
> The Mystery Ordinand, Winchester, England


Mystery Worshipper Sunday


> Seventy London churches all visited the same day


Charlatans


> Denied UK entry "by the Devil", Hinn is there in spirit
> Ted Haggard's birthday, New Life Church, Colorado Springs


All in fun


> Promise of hope at the Nativity, Bethlehem
> Dancing cheek to cheek at the Rapture
> Who cast the deciding vote? Conclave of Cardinals, Vatican





We rely on voluntary donations to stay online. If you're a regular visitor to Ship of Fools, please consider supporting us.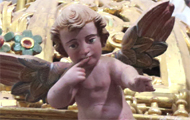 The Mystery Pilgrim

One of our most seasoned reporters makes the Camino pilgrimage to Santiago de Compostela in Spain. Read here.



London churches

Read reports from 70 London churches, visited by a small army of Mystery Worshippers on one single Sunday. Read here.