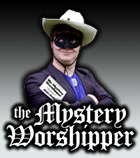 See our archive of reports
Famous/infamous
UK & Ireland
USA
Oz & NZ
Canada
Elsewhere

If you would like to become a Mystery Worshipper, start here.
Quoting from and publishing Mystery Worshipper reports


Would you like to quote extracts from Mystery Worshipper reports – or even a whole report? Here's how.


Church magazines or websites


If you're running a not-for-profit church magazine or church website, you can go ahead and publish a single Mystery Worship report in part or full without contacting Ship of Fools for permission. However, you must include the following paragraph either at the beginning or end of your feature, and in the case of websites, make a click-link to this address...

http://shipoffools.com/mystery

Please copy and paste this paragraph for your feature...


The Mystery Worshipper, which produced this report, is run by shipoffools.com, the online magazine of Christian unrest. Mystery Worshippers are volunteers who visit churches of all denominations worldwide, leaving a calling card in the collection plate and posting a first-timer's impression of services on Ship of Fools. For further reports, visit the Mystery Worshipper at: shipoffools.com.

If you would like permission to publish more than one Mystery Worshipper report in your church publication or website, please write to the editor at the address below.


Non-church publications or websites


All non-church publications or websites (whether commercial or non-commercial) must request permission for use of Mystery Worship reports. Please write to the editor at this address: editor@shipoffools.com.



We rely on voluntary donations to stay online. If you're a regular visitor to Ship of Fools, please consider supporting us.



Easter 2010

From Yunnan in China to Louisville in Kentucky, we report on Easter services, 2010. Read here.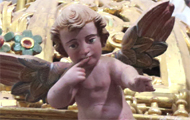 The Mystery Pilgrim

One of our most seasoned reporters makes the Camino pilgrimage to Santiago de Compostela in Spain. Read here.