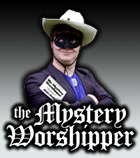 See our archive of reports
Famous/infamous
UK & Ireland
USA
Oz & NZ
Canada
Elsewhere

If you would like to become a Mystery Worshipper, start here.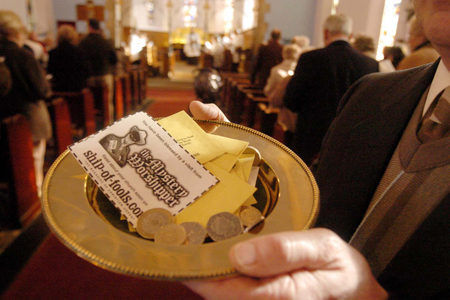 Become a Mystery Worshipper

If you're interested in becoming a Mystery Worshipper, here's some essential information. The aim of the project is to "review" worship services and give people an idea of what goes on in a wide variety of churches – and also to hold up a mirror to churches to let them see how they looked on a particular Sunday to a visitor from outside.

Our team of Mystery Worshippers currently includes several hundred people in places as far apart as Bristol, Seattle, Cairo, Liverpool, Los Angeles and Wellington, New Zealand. What do we look for in a Mystery Worshipper? Well, here are four of the most important qualities.


Observation
– If you have an eye for detail, then you'll be able to write a Mystery Worship report that people will enjoy reading. It's capturing the incidental details that helps bring our reports to life: the limp handshake from the minister at the door; the shade of shocking pink that decorates the ceiling; the moment during communion which makes your spine tingle.


Objectivity
– We have no hidden agenda. The members of our team come from a variety of different faith traditions, and their reports vary from the glowingly positive to the gloweringly negative. What we ideally look for are honest, searching and (above all) amusing reports which are critically aware of the good and bad aspects of modern worship.


Nerve
– Visiting a church as a Mystery Worshipper can sometimes be nerve-wracking. As part of the mystique of the feature, we ask all our Mystery Worshippers to put a calling card into the plate or bag during the collection. This lets the church know that they have been visited, and it also gives them the Ship of Fools web address so that they can read about themselves.


A camera
– We also ask Mystery Worshippers to take or get hold of photos of the church they're visiting. A simple exterior shot of the building is fine, and any other pics of the interior, or of people at the church, are regarded as a bonus. Our worshippers mostly give us snapshots taken with an ordinary camera, or postcards bought at the church.


Apply here


If you think you have these qualities and would like to apply to become a Mystery Worshipper, go to this page and fill in our friendly online form. Thanks for your interest.



We rely on voluntary donations to stay online. If you're a regular visitor to Ship of Fools, please consider supporting us.



Easter 2010

From Yunnan in China to Louisville in Kentucky, we report on Easter services, 2010. Read here.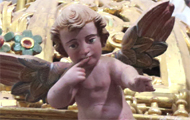 The Mystery Pilgrim

One of our most seasoned reporters makes the Camino pilgrimage to Santiago de Compostela in Spain. Read here.