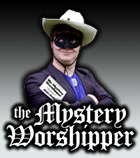 Comment on this report, or find other reports.

Our Mystery Worshippers are volunteers who warm church pews for us around the world. If you'd like to become a Mystery Worshipper, start here.

Find out how to reproduce this report in your church magazine or website.
1220: Mandeville Baptist, Manchester, Jamaica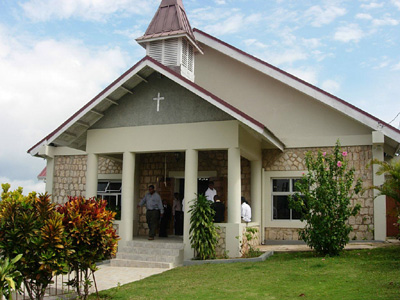 Mystery Worshipper:
Streatham Chorister.

The church:
Mandeville Baptist, Manchester, Jamaica.

Denomination:
Baptist.

The building:
The church is no more than 20 years old and is a long, simple, rectangular, single-storey building, with a small prayer room to the south, and a vestry at the back, with loo block and utility rooms. In the main building, almost all available seating (pews and chairs) is used for services. It is light and airy and functionally comfortable.

The church:
Regular Sunday worship with (first of month) holy communion appended.

The neighbourhood:
Mandeville Baptist stands on a hill at the edge of the town centre, away from the commercial bustle and noise and off the main highway, with wonderful views and an atmosphere of calm. In a quarter with almost no houses or flats nearby, everyone seemed to turn up in private cars. You are three minutes drive from villas with swimming pools and maids' houses, yet a short walk away from "government yards" in quarters where life is largely conducted alfresco.

The cast:
Pastor the Rev. Basil McLeod, aided by the adult and youth praise choirs.

The date & time:
5 February 2006, 10.00am-12.30pm.


What was the name of the service?

Morning Worship plus optional Holy Communion, Baptist style.


How full was the building?

Almost full, about 400 people.


Did anyone welcome you personally?

I was warmly greeted by a lady after I had chosen a chair on the south side four rows from the back. She handed me the necessary: an order sheet and the Baptist Hymnal.


Was your pew comfortable?

It was a lightly padded assembly hall chair, endurable for about a couple of hours. No kneeler, but that's rarely an issue in nonconformist circles.


How would you describe the pre-service atmosphere?

Effusive, bordering on electric. Warm greetings, embraces; an event not for wallflowers.


What were the exact opening words of the service?

"Brothers and sisters, and to all our visitors, welcome to Mandeville Baptist Church for our morning worship..."


What books did the congregation use during the service?

The Baptist Hymnal (which, joy of joys, contains the full piano parts to all the hymns, so harmonising is possible.


What musical instruments were played?

Organ, well-hammered modern piano that will need the rest home shortly, drums, electric guitar. There was a colourfully robed adult choir in white and blue, with headwear, about 15 or so strong. The youth praise singers were similarly dressed, though bare-headed and perhaps nine strong, with teenage boys and girls. The adults out sang and out-harmonised the youngsters, but two of the youth group had distinctive and interesting solos.


Did anything distract you?

All doors were left open throughout the service, as at the parish church, but there were few noises off. However, the members of the youth choir must have had a good card school going, because they were forever nipping off stage, in rote, to the vestry. I can't believe they'd spent the previous night on the Red Stripe, surely?


Was the worship stiff-upper-lip, happy clappy, or what?

Everyone, at some time or other, has to experience evangelical worship of this degree of intensity and abandon. A hymn goes down well and it's "Let's do that stanza again!" Insufficient volume and the preacher calls for a re-run. Unscripted interjections – almost comments – from the congregation, random "Hallelujahs" and "Praise the Lords" abound, along with applause and often foot-stomping. Luckily, no speaking in tongues today, though. Happy? Certainly. Clappy? Assuredly.


Exactly how long was the sermon?

A marathon 57.5 minutes.


On a scale of 1-10, how good was the preacher?

8 – Let's get this right. If this was an original sermon (which I'm sure is the case), then Rev. McLeod must have spent most of the week writing and rehearsing it. He delivered a tour-de-force, albeit largely on one musical note, with Gothic crescendos and diminuendos. He appeared to be preaching largely without notes and I counted fewer than three "errs" or mangled words in probably 30,000 of same. At appropriate moments he burst into song (at which he could make a passable living). Overall, it was an impressive performance, but at times it felt as though he'd fashioned the (good old) King James Bible into a wooden mallet with which he was donking us all on the head.


In a nutshell, what was the sermon about?

The difference between the victory of Christ – the battle against evil and for salvation that has already been won – and the triumph of God's chosen people that we put into practice each and every day. It's easy to call nonconformists simplistic in their theology, but this sermon, drawing on Shakespeare and the customs of classical civilisations, demonstrated that this tradition can transcend sloganising religion.


Which part of the service was like being in heaven?

Honestly, for an Anglo-Catholic, very little, unless you count (a little jealously) how some people can declare their deep faith without one iota of self-consciousness. Joy is always heavenly.


And which part was like being in... er... the other place?

Again little, though everyone used mics and the odd episode of feedback was a tad brain-frying. And I remember Jamaica is a new nation with a strong national pride. I know Anglicans pray for the Queen at eucharist and evensong, but to end divine service with the singing of the rather bland Jamaican national anthem seemed inappropriate – especially when what followed was a "bolt-on" holy communion segment that is at best more regimental than sacramental.


What happened when you hung around after the service looking lost?

I dawdled a while and chatted pleasantly to the pastor's wife. But I had a plane to catch and most people seemed to be heading home after the service.


How would you describe the after-service coffee?

No outward and visible sign thereof.


How would you feel about making this church your regular (where 10 = ecstatic, 0 = terminal)?

1 – I find the older I get, the more contemplative and other-worldly my religious practice becomes. Justification though faith alone has never done it for me, and I can't fall in with those who accept every word of the hugely contradictory Bible; the Old Testament in particular. Energetic religion binds and nurtures more than half of all Jamaicans, and their lives are the better for it. I just miss the smell of incense too much to be comfortable here.


Did the service make you feel glad to be a Christian?

Yes, in that what unites Christians is ultimately greater than the issues that divide us. Christianity's "big tent" has room for this type of service.


What one thing will you remember about all this in seven days' time?

The pastor's sermon. When the words have faded, his verve, confidence and sharp suit will stay with me. And the lump on my head.



We rely on voluntary donations to stay online. If you're a regular visitor to Ship of Fools, please consider supporting us.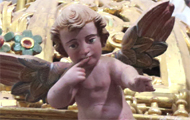 The Mystery Pilgrim

One of our most seasoned reporters makes the Camino pilgrimage to Santiago de Compostela in Spain. Read here.



London churches

Read reports from 70 London churches, visited by a small army of Mystery Worshippers on one single Sunday. Read here.