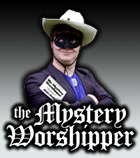 Comment on this report, or find other reports.

Our Mystery Worshippers are volunteers who warm church pews for us around the world. If you'd like to become a Mystery Worshipper, start here.

Find out how to reproduce this report in your church magazine or website.
1207: St Mark's, Mandeville, Manchester, Jamaica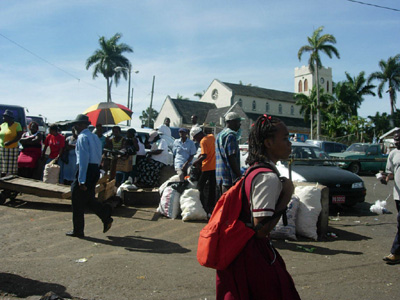 Mystery Worshipper:
Streatham Chorister.

The church:
St Mark's, Mandeville, Manchester, Jamaica.

Denomination:
Church of England.

The building:
The church was built in 1816 in the colonial perpendicular style, a sort of amalgam of comfortable nods to life back in Blighty (the days of Empire). Fine vaulted timber ceiling, half balconies on the north and south side. Monuments to plantation owners, shipping personnel and other white rulers cover most of the wall space. Victorian pews. Cruciform with raised chancel and altar. The altar has been moved away from the east wall for west-facing celebration, but is separated from the nave by a sliding rail.

The church:
Dead-central C of E worship with a distinctly Jamaican flair (read on).

The neighbourhood:
Mandeville is Jamaica's third largest town and a working town, more prosperous than most of Jamaica. Virtually no tourists visit Mandeville, as it's right in the middle of the island and more than an hour from any beach or resort. It is the centre of the bauxite industry and (due to its altitude at 2,000 ft) the principal destination for retired Jamaicans returning from the US and UK. It is also the educational centre of excellence in Jamaica, with several top-performing independent schools. The church stands on high ground adjacent to the busy town taxi rank and market, smack-bang in what is undoubtedly the toughest neighbourhood.

The cast:
The Rev. Egbert Robertson, rector, and sundry ordained/ licensed ministers.

The date & time:
5 February 2006, 7.30am. Father Robertson has no fewer than five eucharists to celebrate every Sunday in his cures, some more than an hour's drive from Mandeville.


What was the name of the service?

Parish Eucharist.


How full was the building?

Probably two-thirds full, about 300 people.


Did anyone welcome you personally?

I was warmly greeted by a middle-aged lady after I had chosen a pew. She handed me the weekly bulletin sheet and books.


Was your pew comfortable?

As comfortable as well-worn Victorian pews can be, with ample room to kneel.


How would you describe the pre-service atmosphere?

Restrained chat and a little banter.


What were the exact opening words of the service?

Following the processional hymn, the usual "In the name of the Father, and of the Son, and of the Holy Spirit."


What books did the congregation use during the service?

Hymns Ancient and Modern and the Alternative Service Book 1980.


What musical instruments were played?

Organ, competently, by an attractive woman in her early 30s who oozed school-ma'am-ish composure. There was a large adult choir, easily 30 or so, all in crimson robes, They sang well enough in harmony with their rural Jamaican accents. Congregational singing was robust and heartfelt. It was announced that the Boys Brigade had just bought a drum, which was blessed and dedicated after communion and the notices.


Did anything distract you?

All doors were left open throughout the service, and the noise of taxis, lorries and other market hubbub occasionally intruded.


Was the worship stiff-upper-lip, happy clappy, or what?

Confident in who they are and how they worship would sum it up. There was a true feeling of family and one-ness. At many points, hymns and liturgical set pieces were followed by a couple of spontaneous verses from other well-loved hymns, something which might well be part of the fabric of Jamaican Anglicanism. The peace was enthusiastically exchanged, and everyone held hands for the Lord's Prayer, which was deeply moving. I should add that during the service, a welcome was extended to all visitors. Toward the end, parishioners with birthdays in the coming week were named and a rousing two verses of "Happy Birthday" were sung by all.


Exactly how long was the sermon?

14 minutes.


On a scale of 1-10, how good was the preacher?

7 – Clear, logical, theologically sound, not too challenging.


In a nutshell, what was the sermon about?

All of us bring our own "altars" to church. Father Robertson then expounded on what those altars are about and how to recognise the hypocrisy, pride and vanity in us all, and the way Jesus counsels us to pray.


Which part of the service was like being in heaven?

So many familiar hymns and chants being reinvented and rephrased in the local idiom. "We Shall Overcome" following the consecration, too. I would be leaving the island later that afternoon and was deeply moved by the emotions most of he hymns and liturgy stirred up.


And which part was like being in... er... the other place?

Very little, though the choir would certainly benefit from a study tour to the UK to learn how to do psalm pointing and enunciate those magical words more clearly.


What happened when you hung around after the service looking lost?

Whilst I dawdled, two male parishioners came up and chatted. By then I was feeling so much emotion that I was at the point of tears, and had to apologise. We exchanged some interesting angles on Anglicanism on the island and back in Britain. I was asked to come and visit again, which I promised to do.


How would you describe the after-service coffee?

There was no sign of any such gathering, unfortunately.


How would you feel about making this church your regular (where 10 = ecstatic, 0 = terminal)?

7 – If I were even only a part-time resident of Jamaica, this would truly be the only church where I would feel completely at home, despite my Anglo-Catholicism. I'd probably be the only white member of the choir, too. It's clear that Anglicanism is strongest among more successful, affluent, somewhat older and more literate islanders, and I'd strive to do my tiny bit about that – the church does not even have a notice-board outside to give essential info on services, clergy, etc.


Did the service make you feel glad to be a Christian?

Most definitely, and to be part of the great Anglican family, a truly broad church.


What one thing will you remember about all this in seven days' time?

Jamaican singing. It echoes in my ears all the time.



We rely on voluntary donations to stay online. If you're a regular visitor to Ship of Fools, please consider supporting us.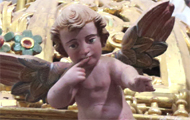 The Mystery Pilgrim

One of our most seasoned reporters makes the Camino pilgrimage to Santiago de Compostela in Spain. Read here.



London churches

Read reports from 70 London churches, visited by a small army of Mystery Worshippers on one single Sunday. Read here.