Mystery Worshipper:
Augustine the Aleut.

The church:
Igrexa de Santo Agostiño, Santiago de Compostela, Spain.

Denomination:
Roman Catholic, Archdiocese of Santiago de Compostela.

The building:
A 17th century Baroque masterpiece with neoclassical facade, it is the work of architect Bartolome Fernandez Lechuga. The rightmost tower was never completed, and the leftmost tower was damaged by a lightning strike in 1788 and never rebuilt. The interior looks rather light despite the severe arched stonework, thanks to a dome above the sanctuary. The eye is drawn to the altar backed by the gold reredos so typical of Spanish churches. There are several fine examples of sculpture and bas-relief, including a tormented Christ tied to the pillar, and a rather cheerful looking face peering from the front of the pulpit.

The church:
Built for the Order of Calced Augustinians, the church is now administered by the Jesuits. I am not certain if the church is a parish church or a Jesuit church and college.

The neighbourhood:
Igrexa de Santo Agostiño is just to the left of the city gate of San Pedro where pilgrims enter, and right by the still very active market. While Old Santiago is a well preserved tourist town, it is still a provincial capital. Several faculties of the university are nearby in the New Town, ensuring a presence of exuberant students among the boutique hotels catering to the more elegant and learned tourist/pilgrim. About five minutes' walk away, one finds a city restaurant providing meals for the homeless and indigent (three courses, with wine).

The cast:
There was no notice or announcement, and there is no parish website. The priest appeared to be elderly, possibly in his 70s.

The date & time:
Sunday, 16 October 2016, 12.00pm.


What was the name of the service?

Parish Mass.


How full was the building?

We could likely squeeze in 200 or more. There were about 150 present, of a wide range of ages, and almost as many men as women. People were generally respectably-dressed, although perhaps a few had just come in from labouring jobs. I would say that perhaps there were two or three Asians, possibly Filipino, there.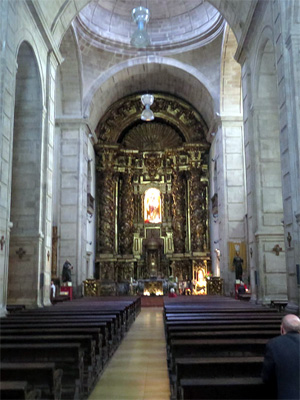 Did anyone welcome you personally?

Again, Spain doesn't do greeters. This is a large urban parish by a university, and they were likely accustomed to outsiders and transients.


Was your pew comfortable?

You wouldn't know it by looking at them, but they were perhaps among the finest and most enjoyable pews I had encountered in Spain. They were graceful and comfortable but somehow were built so as to encourage circulation rather than repose – the Jesuits are very clever indeed.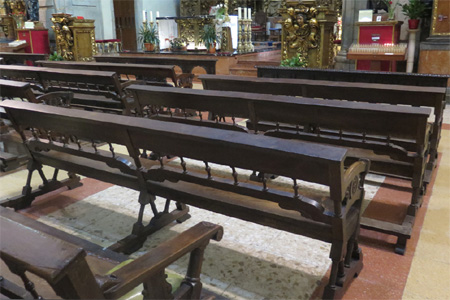 How would you describe the pre-service atmosphere?

There was lots of stirring as people made their way to their seats. Noon mass attenders were psyching up for the major Sunday lunch that redeems so much of the challenge of Spanish life.


What were the exact opening words of the service?

"En el nombre del Padre, y del Hijo, y del Espíritu Santo."


What books did the congregation use during the service?

They followed the service by memory or not at all. There were some leaflets around, I think with the day's propers, but I am not sure.


What musical instruments were played?

There was an organ set on the gospel side of the nave, providing us with an interesting medley of pre-mass numbers, including a Celtic tune or two – not surprising, as bagpipes are well-known in Galicia.


Did anything distract you?

I was struck by the statue of the Cristo Flagelado (the Flogged Christ), which was remarkable in conveying both pain and strength, and which prevented me from sliding into comfortable thoughts and inattention. It is apparently brought out for the Holy Week processions, and I can see how it was most effective in impressing the Passion upon the public. I was also facing a statue of St Francis Borgia, whose home burg I had passed through a few weeks before.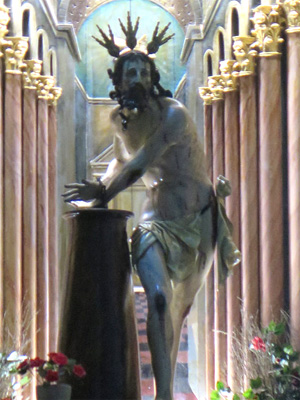 Was the worship stiff-upper-lip, happy clappy, or what?

Neither. Congregants were attentive and quite involved, without much fuss. The peace was passed so smoothly that I can recall nothing specific of it.


Exactly how long was the sermon?

12 minutes.


On a scale of 1-10, how good was the preacher?

I'm going to withhold a rating for reasons I will reveal momentarily. But it appeared to be a layered and intellectually coherent presentation, as befits a Jesuit church.


In a nutshell, what was the sermon about?

No idea. Just because I could tell that it was layered and intellectually coherent does not mean that I understood it.


Which part of the service was like being in heaven?

I liked the feel of being in a church where we did not have to check our brains at the door, and where we could try to find our place in a cascade of history and experience.


And which part was like being in... er... the other place?

My inability to comprehend much of the sermon, which sounded quite good. If only I could have understood more than a few words.


What happened when you hung around after the service looking lost?

Not much, as the congregants were all anxious to get to their Sunday lunch and its well-ordered procession of courses.


How would you describe the after-service coffee?

No after-service coffee, but I was scheduled for lunch with an old friend on the other side of the Old City. There, a tureen of exquisite fish soup was placed before me (three bowlsful) followed by stuffed squid and washed down with a glass or two of albariño. For our luncheon meditation, we discussed the spiritual benefits of pilgrimage and hardship.


How would you feel about making this church your regular (where 10 = ecstatic, 0 = terminal)?

6 – Right now, as my Castilian just ain't up to the full benefit. If I were more fluent, I think I would upgrade it to a 9 for the reasons I addressed in the heavenly aspects question.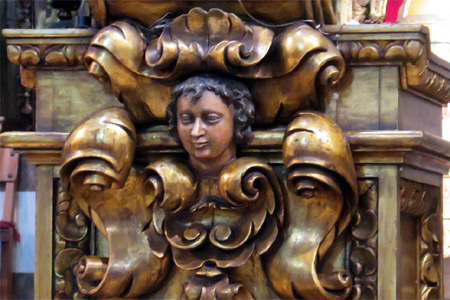 Did the service make you feel glad to be a Christian?

As in pretty well everywhere in Spain, the quiet friendliness of parishioners to this stranger among them calls for a resounding Yes to this question. Nobody wanted to recruit me to anything; they just seemed pleased that I was there.


What one thing will you remember about all this in seven days' time?

Half of my mind was wandering around the Scottish and Irish tunes from the organ, and half confronted by the flogged Christ in front of me. Talk about naught for your comfort
.

More Camino reports