Mystery Worshipper:
Augustine the Aleut.

The church:
Asunción de Nuestra Señora, Hontoria del Pinar, Spain.

Denomination:
Roman Catholic, Archdiocese of Burgos.

The building:
A 17th century stone church dedicated to the Assumption (and to Cosmas and Damian, favoured saints of the Spanish), with a Baroque interior and a 1622 altarpiece of Cosmas and Damian by 17th century artisans Pedro de Cicarte and José Rodigez. By the altar there is a 17th century burst of sun, with rays and stars, embossed in gold.

The church:
It's a village church in the back of nowhere, like a hundred others in rural Castile
.

The neighbourhood:
Hontoria del Pinar is a tiny village of only a few hundred residents. This area was long on the borderlands of the Games-of-Thrones-like Reconquista. In 902, Gonzalo Fernández, Count of Burgos, took the area and established it as a royal estate. A few centuries later, King Alfonso VIII assigned the area to the Abbot of San Pedro de Arlanza to finance a hospital in Burgos for the relief of pilgrims to Santiago. The region was bloodily worked over during the Napoleonic Wars but seems to have suffered only moderately during the Civil War. Many of the Ural scenes of the film Doctor Zhivago were shot near here, included the famous scene where Omar Sharif's Zhivago is interviewed by Strelnikov. There you can see the pine forests that cover the rolling hills and moors.

The cast:
There was no notice or announcement, and there is no parish website, but the pueblo's website names the rector as Antonio Bocanegra.

The date & time:
Saturday, 30 September 2016, 7.00pm.


What was the name of the service?

Parish Mass.


How full was the building?

It might fit about 150, but only about a dozen of us were there: ten women and three men, generally of retirement age, but including two women in their twenties or thirties.


Did anyone welcome you personally?

Again, Spain doesn't do greeters. I received a friendly glance or two – this village is not much frequented by pilgrims, and outside summer, tourists are non-existent.


Was your pew comfortable?

It was fine, with plenty of space in the seat.


How would you describe the pre-service atmosphere?

It was very, very quiet. I was very, very tired.


What were the exact opening words of the service?

"En el nombre del Padre, y del Hijo, y del Espíritu Santo."


What books did the congregation use during the service?

They followed the service by memory.


What musical instruments were played?

A young woman played a tune on a classical guitar before the service began, and did so as well after the communion. The gallery holds an old tracker organ that is probably not in playable condition.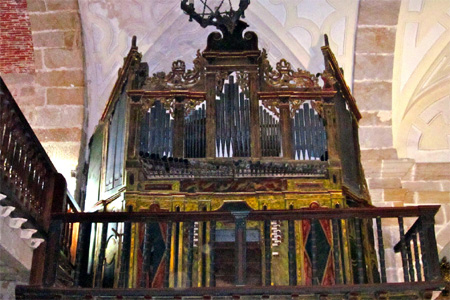 Photo: Ayuntamiento de Hontoria del Pinar


Did anything distract you?

Not during the service itself. I had come in after a very long day walking from Navaleno to San Leonardo de Yaguë (home town of the fascist general of that name) and then through fields to Hontoria. In the early evening, I wandered into the empty church and sat down. The priest, sitting in a confessional reading and waiting for penitents, saw me and we exchanged nods. As no penitents were there, we began to talk in my halting Castilian. I said that I was a pilgrim to Santiago. He asked my motives, which I had not mentioned to anyone before. I told him that it was as a memorial for a friend of mine who had just died of ovarian cancer, far too young. He saw that I was affected by this and came over, sat beside me silently, and gave me a small Rosary. He then asked me my friend's name, as that day's mass would be a requiem for her.


Was the worship stiff-upper-lip, happy clappy, or what?

It was a quiet evening mass in a small village. Everyone knew each other, and it seemed that I was their guest.


Exactly how long was the sermon?

5 minutes.


On a scale of 1-10, how good was the preacher?

8 – The priest spoke well, but I was too distracted by my own thoughts to try to follow.


In a nutshell, what was the sermon about?

Not a clue; my mind was elsewhere.


Which part of the service was like being in heaven?

It was a quiet and serene place, and restorative for me after a long dry day in the sun.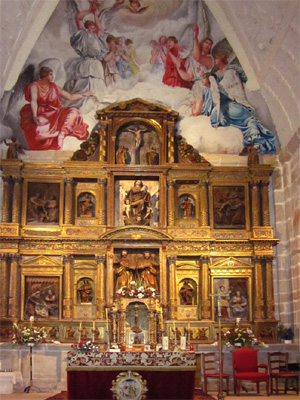 Photo: Ayuntamiento de Hontoria del Pinar



And which part was like being in... er... the other place?


Thinking of someone who should still be with us.



What happened when you hung around after the service looking lost?


Not too much happens in Hontoria del Pinar, so I thanked the priest on the way out.



How would you describe the after-service coffee?


I allowed myself a brandy after a nourishing dinner of chicken and tomatoes, with a bottle of the local tinto.



How would you feel about making this church your regular (where 10 = ecstatic, 0 = terminal)?


10 – For sentimental reasons. It was a very dream-like – not dreamy – day. This is the second memorial Camino I have done. When one is so powerless, one seeks ways of doing something no matter how eccentric. But I will always remember the kindness of the young priest.



Did the service make you feel glad to be a Christian?


I have noted before how people are quietly friendly to strangers passing through.



What one thing will you remember about all this in seven days' time?


How, in spite of the difficulties of language, a shy young priest saw what was needed and how, in this dusty little village in the middle of nowhere, there was a requiem for a teacher from a dirty mill town in northern Ontario.

More Camino reports