Mystery Worshipper:
Augustine the Aleut.

The church:
San Gil Abad (Saint Giles the Abbot), Zaragoza, Aragon, Spain.

Denomination:
Roman Catholic, Archdiocese of Zaragoza.

The building:
The original 14th century church was built in Mudejar style with the patterned bricks favoured by the Muslim masons who stayed behind after the Reconquest. The tower itself might be from 1358 and has a roof terrace and is decorated with interlocking arches. The interior was rebuilt in the baroque style between 1719 and 1725, with a cross vault. The 1628 main altarpiece, dedicated to Saint Giles, is highlighted by figures of the two penitents and assorted anchorites. The sacristy, which I visited to get my pilgrim credencial stamped, was built the year of the US Declaration of Independence, and is decorated with a vault fresco by Ramón Bayeu and darkish wall paintings by Friar Manuel Bayeu.

The church:
It is the usual old-city parish church, now part of a multi-point urban parish.

The neighbourhood:
On the south side of the river, perhaps 15 minutes on foot from the two cathedrals of Zaragoza (that of Our Lady of Pilar is a national and nationalist shrine, and the older one of the Saviour rather too well-policed by staff from another, less generous, era). Not only is it part of the medićval old city, but it is on the site of an even older one (Zaragoza being a contraction of Cćsar Augustus), not far from the Roman baths, and built on the site of a Roman road. The Alma Mater diocesan museum is about 10 minutes walk away, and well worth the visit, with striking exhibits of vestments and altarpieces.

The cast:
There was no notice or announcement, and there is no parish website. Might it have been the rector, Don Mario Paúl Gállego Bercero, who would have been the right age?

The date & time:
Friday, 16 September 2016, 7.00pm.


What was the name of the service?

Parish Mass.


How full was the building?

The church might have fit 180 to 200 in the nave, and had 43 women and 16 men, including four children and perhaps as many adolescents. People were respectably, if not formally, dressed, and several had probably just come in from work. Perhaps two congregants were of South American origin.


Did anyone welcome you personally?

They don't do greeters in Spain and this is a city church where strangers are common.


Was your pew comfortable?

It was Catholic, with enough penitential aspect to be a Protestant stiff-backed pew.


How would you describe the pre-service atmosphere?

People settled in as best they could, but there was no denying that there was tango dancing going on in the square outside. A band was playing, bandoneón (Spanish style concertina) and all, and perhaps 40-60 people were dancing.


What were the exact opening words of the service?

"En el nombre del Padre, y del Hijo, y del Espíritu Santo." Spain is always good for this – there are never any performance pieces by the clergy or worship leaders.


What books did the congregation use during the service?

No books available. They followed the service by memory.


What musical instruments were played?

None, but with the tango band going at full blast, I don't think that there would have been any point.


Did anything distract you?

Did I mention the tango band? Then there were some astonishing statues, including a most malevolent cherub playing with a skull.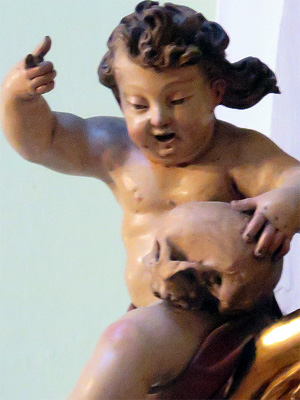 Was the worship stiff-upper-lip, happy clappy, or what?

Everyone seemed quite relaxed, perhaps cheered along by the tango band, and I saw the occasional grin accompanying an explosion of sound from the square. About a third of the congregation kneeled during the prayer of consecration; the rest stood. The peace was passed quietly by the people around me, but one of the men put his hand on my shoulder as he shook my hand, saying "Paz, estranjero" (Peace, stranger).


Exactly how long was the sermon?

We were addressed for about 5-6 minutes.


On a scale of 1-10, how good was the preacher?

8 – The priest was friendly, and varied his tone fairly often. The sound system was working properly and was competently set up, a rarity in Spanish churches.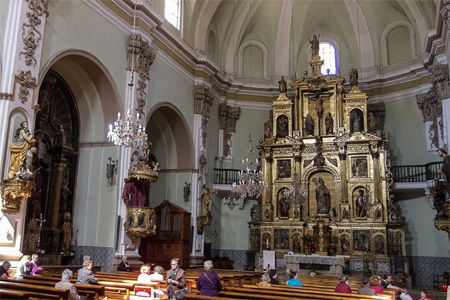 In a nutshell, what was the sermon about?

I think he was preaching from a passage in Luke but all I really caught was that it was important for us to be kind to each other, and to remember that many people were suffering quietly and were lonely. We should be signs of light and friendship. His pronunciation was clear and, if my Castilian had been better, I would have been able to follow him easily.


Which part of the service was like being in heaven?

The tango band. And I found the cherub with the skull endearing in a zombie-killer kind of way.


And which part was like being in... er... the other place?

Nothing in particular, but a cushioned kneeler would have been nice.


What happened when you hung around after the service looking lost?

After the mass, I went to the sacristy to get my pilgrim's credencial stamped. The priest said that he hoped that I was not too distracted by the music, and that it happened only twice a week. I said that I had always liked (Argentine singer) Carlos Gardel's song Mi Querido Buenos Aires. He laughed, saying that he used to hear it from his room in the seminary when he was young, and tango was quite frowned upon.


How would you describe the after-service coffee?

No after-service coffee, but at the restaurant around the corner I had a plate of roast kid and greens, followed by sweet Spanish melon. I was surrounded by ebullient tango dancers catching a happily noisy meal before they headed off to the discos later that evening.


How would you feel about making this church your regular (where 10 = ecstatic, 0 = terminal)?

8 – Should I be stuck in Zaragoza, I would likely go here from time to time. The Cathedral of El Pilar was too much like Westminster Abbey with the tourist crowds, and that of El Salvador had too many ex-fascist security people making sure that cameras were kept out of sight. San Gil Abad had friendly people and, it seems, twice a week tango music.


Did the service make you feel glad to be a Christian?

This was a city church, so they may be used to strangers coming around. It was not so much a congregation as we are accustomed to, but just neighbours popping in to worship. It's an interesting distinction, and I didn't mind it.


What one thing will you remember about all this in seven days' time?

Carlos Gardel, and parishioners smiling at each other each time the crowd outside burst into applause and cheering.

More Camino reports