Mystery Worshipper:
Augustine the Aleut.

The church:
Basílica de San Isidoro, León, Spain.

Denomination:
Roman Catholic, Diocese of León.

The building:
It has a reddish-sandstone appearance and seems to have been put together over a few centuries; European Community money is restoring it. King Sancho built a monastery here in 967 to house the relics of St Pelayo, the child martyr of Cordova, but the current institution was founded in 1037 by Alfonso V's daughter Sancha when she and her Navarrese husband Fernando became the king and queen of Leon and moved their capital there. They decided to build a church on this site to accommodate a pantheon for the royal family. As many of the congregation had taken refuge from Seville during one of the occasional bouts of persecution of Christians (historians suggest that some purposely sought martyrdom), they named it after the Sevillian sage, St Isidore. The Blessed Sacrament has been exposed in the church since 1593 without interruption, even during the civil war.

The church:
In 1956, the college of canons was transformed into a priestly secular institute that focusses on teaching, research, and scholarly and intellectual support for the diocese, sadly depriving them of some idiosyncratic choir vestments and birettas. They run the Casa de Espiritualidad ("House of Spirituality"), a nearby retreat house. They provide chaplaincy services for the art school and a couple of local research institutes.

The neighbourhood:
León is situated in north-west Spain in the autonomous community of Castile and León. This is an older part of a very old city (named after the Roman Seventh Legion, rather than the lions that adorn the local heraldry), about 10 minutes walk from the old Jewish quarter, 10 minutes from the cathedral. The church is perched on the side of its own plaza, and is surrounded by apartment buildings, students' residences, and educational institutions.

The cast:
There was no notice or announcement, and there is no parish website listing clergy. He was in his late sixties.

The date & time:
Saturday, 22 October 2011, 6.30pm.


What was the name of the service?

Parish Mass. I have since learned that the ancient Mozarabic rite is used on Sundays and would have re-arranged my schedule if I had but known.


How full was the building?

We could squeeze 60 into the side chapel (dedicated, I think to St Vincent, as the statue on the altar was vested in a dalmatic, but I am not certain – perhaps it was the chapel of Quiñones, as the other ones were of St Martin or the Trinity) but there were only 45 there (27 women and 18 men).


Did anyone welcome you personally?

I was clearly a pilgrim (outdoor hiking gear and bronzed by the sun), but they are quite used to us in this neighbourhood. So I got the friendly nod-of-recognition of insane-foreigner to which I had become accustomed.


Was your pew comfortable?

We had wooden chairs, which were a bit small. As I was in the row against the back wall, there were no kneelers.


How would you describe the pre-service atmosphere?

It was odd, perhaps a little intense, and people seemed focussed on finding seats and saying private prayers.


What were the exact opening words of the service?

The usual invocation of the three persons of the Trinity.


What books did the congregation use during the service?

Books were available, but everyone seemed to know the service by memory.


What musical instruments were played?

There were no instruments or singing, as this was a low mass for early evening/late afternoon communicants.


Did anything distract you?

The woman to the right of me had mobility difficulty and had her hands full walking in with a cane. Nevertheless, she knelt during the consecration, and another congregant and I ended up helping her balance as she knelt and in getting her back to her seat. After the service, she and two other women stayed and prayed together with their rosaries.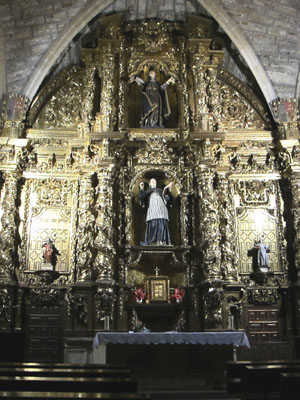 Was the worship stiff-upper-lip, happy clappy, or what?

The priest was friendly and informal, but the congregants were quiet and intent. This was part of the formal and proper and correct nationalist Spain.


Exactly how long was the sermon?

6 minutes.


On a scale of 1-10, how good was the preacher?

It's difficult to say how good he was, as even in this small chapel he used a sound system, which just might have been one of the worst I have ever encountered.


In a nutshell, what was the sermon about?

Crackle, crackle, rumble, hiss.


Which part of the service was like being in heaven?

There was a positive side to this intensity: they were serious about being here. One of the reasons I chose this particular church was because an old friend of mine named Rachelle, from Saint Isidore de Prescott, a small Franco-Ontarian farming community, had been killed in an air crash in 1985. She and I used to make fun of St Isidore, as nobody in her village had any idea of who he might be – and neither did we!


And which part was like being in... er... the other place?

I was a little annoyed at not being able to figure out a word of the sermon.


What happened when you hung around after the service looking lost?

Not much. I took a picture or two and then left quickly, as they were trying to shut up the chapel for the evening.


How would you describe the after-service coffee?

No after-service coffee, but a nearby restaurant would soon provide me with a dish of bacalau Leonese (a local version of rehydrated salt cod with tomatoes).


How would you feel about making this church your regular (where 10 = ecstatic, 0 = terminal)?

6 – I suppose that I could become a regular at the Mozarabic service but I would likely try out other parishes. Still, I would give them 8/10 for seriousness but 2/10 for their sound system.


Did the service make you feel glad to be a Christian?

Yes. As in many other places in Spain, I was moved by the quiet friendliness of parishioners to this stranger among them.


What one thing will you remember about all this in seven days' time?

I had a feeling that Rachelle would be amused to know that she was being thought of here in Isidore's spot.

More Camino reports