Mystery Worshipper:
Augustine the Aleut.

The church:
Santa María, Igualada, Catalonia, Spain.

Denomination:
Roman Catholic, Diocese of Vic.

The building:
Although there has been a church on this site for about 1,000 years, this building dates from the 16th century. Operating as a market during the Civil War after forcible secularization, the church was restored and made a basilica by Pope Pius XII in 1949. The pure lines of its interior finds distraction in the large retablo and a number of side altars.

The church:
They host an international organ festival every spring, but other than that I didn't notice anything special about the church.

The neighbourhood:
Igualada is in northeast Spain in the heart of a rich agricultural and wine-producing district. The church is in the heart of the old city, surrounded by shops, cafés and interesting housing, much of it in buildings from the 17th and 18th centuries.

The cast:
Likely the rector, Josep Massana, as well as deacon Pere Roig.

The date & time:
Saturday, 5 September 2009, 8.00pm.


What was the name of the service?

Evening Mass, anticipating Sunday.


How full was the building?

I counted 245 in a church potentially holding about 500 or 600. Unlike many Spanish churches, there was a good spread by ages and sex, as well as a few dozen adolescents with their parents.


Did anyone welcome you personally?

I got a few friendly nods from parishioners, who probably noted that I was from out of town. Everybody knows everybody here.


Was your pew comfortable?

It was an excellent pew, and I was able to lounge without embarrassment or discomfort, after a 26km hike. We should have more of these.


How would you describe the pre-service atmosphere?

The church was fairly busy, with people nodding in welcome, and heading off to their pews.


What were the exact opening words of the service?

"En el nom del Pare, del Fill i de l'Esperit Sant."


What books did the congregation use during the service?

There was a Catalan missal in the pews, unlike most Spanish churches, which assume you know everything by heart. I tried to follow it, and found it an easier read than Castilian Spanish.


What musical instruments were played?

A powerful organ with a vigorous organist.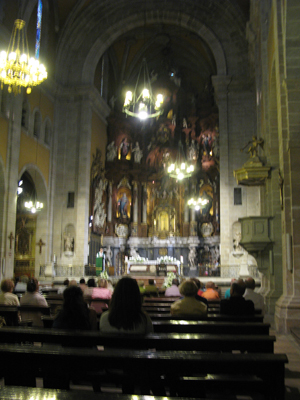 Did anything distract you?

To my right, and a few pews ahead, an older woman sat with a girl of about 12, and a boy a year or two younger. After the communion, she began to weep, and the girl put her arms about her, then looked back at the rest of us with a nervous face. I nodded at her to reassure her, then saw that others were doing the same, and her face relaxed a bit. The boy was bewildered and perhaps frightened, and an older couple came over to sit with the small group.


Was the worship stiff-upper-lip, happy clappy, or what?

It was less reserved that I had come to recognize in Spanish churches, but Catalan culture is different from Castilian Spain. The casually-dressed woman reader was interrupted by imprecations from her two toddlers, who circled about her, trying to get her attention. She was able to return to the epistle as the priest and the deacon distracted them and walked them back to their embarrassed father, all to the amusement of the congregation. The blushing reader continued her lection and retired to her bench.


Exactly how long was the sermon?

9 minutes.


On a scale of 1-10, how good was the preacher?

7 – I almost understood it from time to time, as Catalan sounds (to me) a bit like French with a badly damaged sound system, but all I can tell you is that he was quoting St Luke. Still, his style was engaging. Everybody seemed to enjoy it.


In a nutshell, what was the sermon about?

Not sure – see above.


Which part of the service was like being in heaven?

A respite after a tough 26km day out of Montserrat, and seeing parishioners support the two children with their grieving grandparent.


And which part was like being in... er... the other place?

Nothing in particular, although I will never understand why Spanish Roman Catholics do not simply put money into a good sound system or train their priests to cast their voices. For a society which centres around presentation and style in almost everything, this puzzles me.


What happened when you hung around after the service looking lost?

I went to the sacristy to get my pilgrim's credential stamped and was warmly welcomed by the priest. After he learned that I was Canadian, he spoke in French, and introduced me, one by one, to his pastoral assistants and his team of helpers. The enthusiastic embraces and teary-eyed greetings and enthusiasm left me a bit embarrassed, as all I had done that day was walk.


How would you describe the after-service coffee?

I received a few nods on the way out, but there is no coffee hour in Spanish churches. I took a glass of refreshing orxata (a beverage made from tigernuts, water and sugar) in the square, served up to me by a pink-haired local who was curious about where my children were and how my nonexistent wife had allowed me to travel so far without her supervision. I followed this with an excellent supper of sardines in garlic and parsley, followed by roasted halibut, washed down by a bottle of dry bubbly rosé.


How would you feel about making this church your regular (where 10 = ecstatic, 0 = terminal)?

8 – There seemed to be a lot more parish life here than in most Spanish churches. People were lively and friendly, and I suppose that I could pick up a bit of Catalan.


Did the service make you feel glad to be a Christian?

I felt a positive energy in the parish, of the sort I hadn't experienced for some years.


What one thing will you remember about all this in seven days' time?

Two kids bewildered as they found themselves comforting their grandmother, and knowing that they were beginning to learn about growing up.

More Camino reports