Mystery Worshipper:
Quixotic Don.

The church:
San Antonio de los Alemanes (St Anthony of the Germans), Madrid, Spain.

Denomination:
Roman Catholic. The church is administered by La Santa, Pontificia y Real Hermandad del Refugio y Piedad (the Holy, Pontifical and Royal Brotherhood of Refuge and Mercy), a benevolent association founded in 1615 to address the frightening level of poverty that plagued Madrid at that time, particularly among refugees arriving from Portugal.
The building:
A Baroque masterpiece, begun in 1624 and completed in 1660. The exterior is rather sober. The interior is elliptical under an oval dome and ablaze with frescoes, sculptures and paintings that cover the entire space. Most of the frescoes appear to be scenes from the life of St Anthony, with the good saint attended by a crowd of angels, saints and onlookers in varying poses of Baroque swoon and ecstasy. The high altar is currently being restored and is masked by a canvas cleverly painted to look like the altar and reredos, complete with altar cloths, candles and flowers. Side chapels abound. A life-size crucifix stands to the left. St Anthony, born in Lisbon but best known for his years spent in Padua, is not usually thought of as a German saint. Indeed, the church was originally called San Antonio de los Portugueses. Its name was changed in 1665 to honor the patronage of the Queen Regent Mariana of Austria, second wife of the physically deformed King Carlos II, last of the Spanish Habsburg kings.

The church:
Ever since its founding, the Hermandad del Refugio (as it is known for short) has engaged in a number of charitable works. Their present day activities include providing hot meals and shelter for the homeless, a residence for seniors, a school for orphans, and other activities. Each day more people show up to be fed than can be accommodated, and so take-away sacks of pastries, fruit and milk are given to those for whom there is no room at the table. The dining room (as well as the church) is closed every August during the high point of Madrid's torrid summer weather, but the take-away sack meal program is continued. Mass is celebrated each weekday at 7.00pm and on Sundays at 11.00am, 12.00pm and 12.45pm. Weddings, baptisms and group tours are arranged by appointment. Visitors to the church at other times are requested to give a 2€ donation toward the work of the Brotherhood.

The neighbourhood:
The church is located in central Madrid at the corner of Calle de la Puebla and Corredera Baja de San Pablo, a short walk from the Gran Vía (Madrid's most famous street) and the nearest Metro station at Callao. It's a rather seedy neighborhood, if truth be told.

The cast:
The Revd Javier Repullez. Lay readers, the sacristan (who, dressed in street clothes, assisted the priest in making his chalice but did not remain in the sanctuary otherwise), eucharist ministers and the organist were not named.

The date & time:
Sunday, 12 July 2015, 12.45pm.


What was the name of the service?

Misa (Mass).


How full was the building?

The church was smaller than I had been led to believe. There must have been seats for about 150, but I counted about 50 people present. Interestingly, most sat on the sides, leaving the center pews almost completely vacant.


Did anyone welcome you personally?

A man standing at the door said, "Buenos días. Pásele, por favor." (Good morning. Come in, please.) He held out a hand, but I wasn't sure if it was a gesture of welcome or if he was begging for change.


Was your pew comfortable?

The center pews, where I sat, were padded and comfortable. Those on the sides, where most other people sat, were neither.


How would you describe the pre-service atmosphere?

When I arrived, the earlier mass was just letting out. The organist struck up a lively rendition of Bach's Little Prelude and Fugue in C Major as people left and others came in. But there was no interchange nor any conversation. After a few minutes, the organist played a fittingly Baroque sounding prelude but I didn't recognize what it was.


What were the exact opening words of the service?

The priest, an ancient old dear with a long white beard, hobbled in as everyone stood. He spoke for about a minute or so extemporaneously, but I couldn't make out what he was saying. Finally he settled in to the standard "En el nombre del Padre, y del Hijo, y del Espíritu Santo."


What books did the congregation use during the service?

None.


What musical instruments were played?

Organ, located high up in the back of the church behind a grill. It dates from 1923 and is an opus of Eleizgaray y Compañía, whose instruments grace a number of churches and monasteries throughout Spain. It was played very well by the unnamed organist, but unfortunately it was rather out of tune.


Did anything distract you?

What didn't? The harsh glare of electric candelabra and mini-fluorescent spotlights (held aloft by happy-looking cherubim) amid all that Baroque splendor. The age and physical condition of the priest (I thought he had to be at least 100, but I learned later that he was only 79). The out-of-tune organ. The frescoes. The touches of Castilian Spanish (e.g. "El Señor sea con vosotros"). The list goes on and on!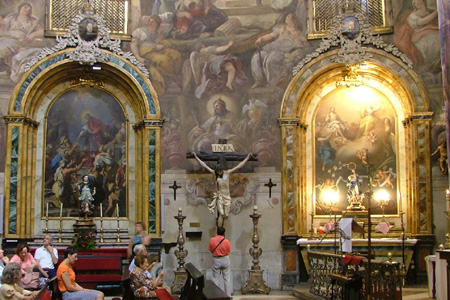 Was the worship stiff-upper-lip, happy clappy, or what?

A low mass with organ continuo – no singing, no bells, no smoke. I had a feeling that the priest was ad-libbing some of it, but he was so sincere in his celebration (especially given his age and condition – it was clear that he had trouble seeing the missal) that I forgave him for it. I noted several differences between this mass and what I'm accustomed to back home: for example, the priest alone recited the various sentences of the Creed, after each of which the people replied, "Lo creemos" (we believe it). People knelt at the beginning of the eucharistic prayer but stood immediately after the consecration.


Exactly how long was the sermon?

9 minutes.


On a scale of 1-10, how good was the preacher?

10 – I'm going to flip all the cards here, again because of the priest's advanced age and frail condition. Señor el Cura Javier Repullez spoke sincerely and with feeling, and even managed to crack some jokes (judging from the people's reaction, although I didn't understand them).


In a nutshell, what was the sermon about?

We talk about God all the time, but words fail us. We cannot possibly understand God fully – he is infinite and we are finite. It is enough to know that divine mercy has saved us. We can gain knowledge of God through scripture, but if we don't listen then God help us! We can also know God through the person of Jesus Christ – we can discover God through his Son. We can discover his love.


Which part of the service was like being in heaven?

It was clearly evident that Señor el Cura Javier Repullez loved being a priest, and has loved it all his life. He was well past the age and condition where most priests are glad to enter retirement, but here he was not only still celebrating mass but also relating with gusto to his congregation.


And which part was like being in... er... the other place?

I couldn't understand why everyone chose to sit bunched up on the sides as they fanned themselves to beat the band. It was very hot, and surely they would have been cooler had they spread out a bit.


What happened when you hung around after the service looking lost?

Everyone left as the organist played another Baroque sounding postlude that I didn't recognize. I was hoping to hear the Bach again but he surprised me. I flagged down the eucharistic minister to ask him what the priest's name was and how old he was. Later I saw the eucharistic minister standing outside conversing with a group of what seemed to be regulars. They didn't appear to be receptive to or encouraging of a visitor joining them, so I didn't.


How would you describe the after-service coffee?

None. I retired to a nearby restaurant for a delicious tortilla de jamón (ham omelet) and then headed back to my hotel.


How would you feel about making this church your regular (where 10 = ecstatic, 0 = terminal)?

6 – If I lived in Madrid, I would probably seek out a church that showed more evidence of congregational life. This congregation (if indeed my suspicion is correct that the majority of those present were regulars) seemed turned in on themselves and not at all interested in opening up to visitors.


Did the service make you feel glad to be a Christian?

Yes. I was inspired by the joy that Señor el Cura Javier Repullez seemed to bring to the celebration of the mass.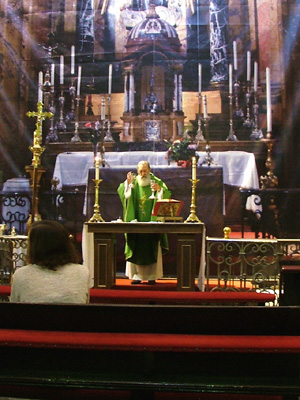 What one thing will you remember about all this in seven days' time?

Señor el Cura Javier Repullez.