Mystery Worshipper:
Sweetpeas.

The church:
Holy Trinity, Dubai, United Arab Emirates.

Denomination:
The Episcopal Church in Jerusalem and the Middle East, Diocese of Cyprus and the Gulf, Chaplaincy of Dubai and Sharjah with the Northern Emirates.

The building:
A modern building set at the far end of a compound of many other buildings. Included in the compound are halls and meeting rooms. The church has a modern spire roof. The altar is a solid piece of stone.

The church:
Quoting from their website: They "provide a home for over a hundred guest congregations, made up of expatriate Christians from all around the world who worship God in many tongues, styles of devotion and expressions of faith in the premises and facilities we share with them." Father Ruwan told us that there are over 35,000 people worshipping in this compound over every weekend! They sponsor children's and youth groups as well as adult ministries. Among these is an "advice clinic" where one-on-one as well as group counseling is offered regarding housing accommodations, contractual disputes, debt and other money issues, basic health problems, etc.

The neighbourhood:
Dubai is a Muslim country, but with an extremely welcoming attitude toward other religions. Holy Trinity Church was built on land donated by the rulers of the UAE. Such has been the success of the relationship between the Anglican church in Dubai and the rulers of the UAE that further parish churches have now opened in Jebel Ali, Ras Al Khaimah, Sharjah and Fujairah. On the same road as Holy Trinity can be found various expat schools and the St Mary's Catholic Church.

The cast:
The Revd Dr Ruwan Palapathwala, senior chaplain, was the celebrant. The Revd Tim Heaney, associate chaplain, preached. There were a number of other priests in the building, but we didn't catch their names.

The date & time:
Friday, 13 September 2013, 9.30am.


What was the name of the service?

Friday Holy Communion.


How full was the building?

Completely full – very few seats left in the house. Perhaps 500 people or so.


Did anyone welcome you personally?

The two priests greeted everyone as they arrived, and members of the congregation handed out hymnbooks, service sheets and pew sheets at the door. No one particularly said hello to us but we had some lovely smiles.


Was your pew comfortable?

The pews were modern, high-backed, varnished wood – perhaps I would have brought a cushion if I had known that the service was going to be two hours long, but the service was actually so engaging that I didn't notice any discomfort. As regards overall comfort, I should perhaps mention that it was 37°C in the shade on the morning we visited, so we were delighted to find that the church is air-conditioned!


How would you describe the pre-service atmosphere?

Extremely jolly – lots of people greeting each other. Friday is the start of the weekend in Dubai, so they were all feeling happy and looking forward to their weekends. We were very happy sitting there and drinking it all in.


What were the exact opening words of the service?

"The grace of our Lord Jesus Christ, the love of God, and the fellowship of the Holy Spirit be with you."


What books did the congregation use during the service?

Each person was given a copy of the Bible, a copy of Complete Anglican Hymns, a sheet with the words to two of the worship songs, a pew leaflet, and a service leaflet.


What musical instruments were played?

Keyboard, two guitarists and a violinist – there may have been more but that's what I could see. There was a large choir of enthusiastic singers leading us in the hymns.


Did anything distract you?

There was a particularly beautiful baby in the pew behind us whom I could have ogled for longer, but when she started to make some noise, her dad took her off into a room at the right hand side of the church. Not overly distracting, though.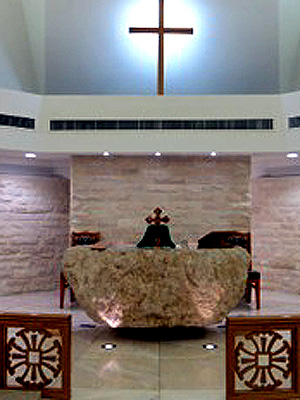 Was the worship stiff-upper-lip, happy clappy, or what?

We experienced a contemporary service, using pretty much the same liturgy that we use at our own church at home, but with rather more of the service sung. Some of it was completely new to us, but easy to join in with. The hymns were also contemporary: Graham Kendrick's and Stuart Townend's works being especially prominent. But the last hymn was that old favourite "How Great Thou Art", and we nearly raised the roof!


Exactly how long was the sermon?

18 minutes.


On a scale of 1-10, how good was the preacher?

8 – Father Tim preached with enthusiasm and clarity. He bounced up and down slightly whilst preaching and cracked a few jokes. He was easy to listen to.


In a nutshell, what was the sermon about?

He talked about the day's readings (Exodus 32:7-17 – Moses asks God to avert his anger; 1 Timothy 1:12-17 – God showed mercy to Paul, a sinner; and Luke 15:1-10 – God rejoices when the lost are found). God's love is unconditional. We are all sinners, but God rejoices in us when we are found. God never gives up, even on the most unworthy. We rejoice that we, too, have been found by God. We should tell others, not through a sense of duty, but through joy that he never gave up on us.


Which part of the service was like being in heaven?

What impressed us was the almost tangible joy around us: it filled the building. This was deep joy that comes with genuine worship. Everyone in the congregation was engaging directly with God but also with fellow worshippers. It was absolutely magical.


And which part was like being in... er... the other place?

I hope I'm not being picky, but as a keen musician and choir member, I felt that the music was, whilst really enthusiastic, perhaps a little under-rehearsed. The congregation invariably sang to their own tempo. Perhaps they might need a drummer to keep the timings in hand?


What happened when you hung around after the service looking lost?

We did hang around for about ten minutes in the courtyard, as mention had been made of coffee, but no one showed us the way or talked to us. However, just as I was taking a couple of photos, Father Ruwan came out and took us into the hall where coffee was being served. After that, several people came up to us and chatted.


How would you describe the after-service coffee?

Plastic cups of hot, sweet coffee, biscuits and savoury snacks brought by members of the congregation. And there was a large birthday cake for Father Ruwan.


How would you feel about making this church your regular (where 10 = ecstatic, 0 = terminal)?

8 – We were visiting Dubai and are unlikely to be moving out there any time soon, but it's good to know that we could be free to practice our faith in the UAE. There are places where we could be beheaded for being Christian!


Did the service make you feel glad to be a Christian?

Oh absolutely!


What one thing will you remember about all this in seven days' time?

The sense of being part of such a strong church – very impressive. A real contrast to the lukewarm expressions of faith at our little parish church back home in conservative Surrey.