Mystery Worshipper:
Chris Teean.

The church:
Anglican Church of the Costa del Sol West, San Pedro, Marbella, Spain.

Denomination:
Church of England, Diocese in Europe.

The building:
Services take place in a rather modern looking purpose built hall belonging to and adjoining the Parroquial del Virgen del Rocio, a Roman Catholic church. I wondered why the service was not being held in the church itself, as has often been the case in my experience. Next to the church and hall is a shady square lined with palm trees. The hall was arranged with stacking chairs for a church service. The simple altar consisted of a communion table with a lacy covering, on which a brass cross and two candlesticks had been placed. A modern metal crucifix, mounted on the wall behind the table, looked to be a permanent fixture.

The church:
It belongs to a chaplaincy of two congregations, the other being at Sotogrande, further along the coast near to Gibraltar. They hold holy communion at both locations every Sunday, and the Methodist church from Gibraltar conducts some services at Sotogrande. A group of people from San Pedro also provides a monthly service at a residential home in nearby Puerto Banus. At San Pedro there is a study group, a home group, and a men's prayer meeting group that meet regularly. Weekly coffee mornings are also held to raise money for local charities.

The neighbourhood:
The Costa del Sol is a well-established tourist area in southern Spain and is a region frequented by the rich and famous. San Pedro is a small modern town lying between the better known resorts of Marbella and Estepona on the Mediterranean coast, with their upmarket marinas crammed full of expensive yachts. The area is full of golf courses and luxurious properties.

The cast:
The celebrant was the Revd Canon Alan Maude, chaplain, assisted by lay reader Barry Mason. The guest speaker was Don Latham, a respected evangelist who has written many challenging books. He is involved with Christian Vision for Men, and is the founder and leader of Menunited, that started as a "cringe-free" breakfast event in Bath.

The date & time:
Sunday, 13 May 2012, 10.00am.

Comment:
We have received a comment on this report.

What was the name of the service?

Holy Communion.


How full was the building?

The hall was quite full with at least 100 in the congregation, which consisted of casual but smartly dressed ladies and gentlemen of all ages, although the majority would be described as seniors. There were a few babies and toddlers, and I gather some other children were not in church but were at the "San Pedro Sunday Club".


Did anyone welcome you personally?

Canon Alan and quite a few members of the congregation, both outside and inside the hall, made me most welcome. A friendly lady handed me all the books I needed for the service.


Was your pew comfortable?

Not really. It was rather like sitting in a school assembly than in a church, but that really didn't matter.


How would you describe the pre-service atmosphere?

Most people spent their time greeting one another.


What were the exact opening words of the service?

After some notices and the singing of a hymn, the service started with the lay reader saying: "In the name of the Father, and of the Son, and of the Holy Spirit."


What books did the congregation use during the service?

The Anglican Church Costa del Sol West Order of Service for Holy Communion, Complete Mission Praise and The Holy Bible, New International Version.


What musical instruments were played?

A lady played a keyboard and a gentleman strummed a guitar. I didn't think I would like guitar playing, but I have to say it seemed suitable for the occasion. They played well together.


Did anything distract you?

I was mesmerised by an abstract painting at the front of the hall. It depicted a series of crosses where each was contained within a larger one, which itself was contained within a larger one, rather like Russian dolls. I wondered if it had any relevance to this particular service or the sermon given by the guest speaker. I was also fascinated by the lacy communion table covering when I suddenly realised that amongst the cherubs and angels, it depicted biblical scenes. From where I was sitting I could make out God's creation of Adam in a copy of Michelangelo's famous fresco on the ceiling of the Sistine Chapel.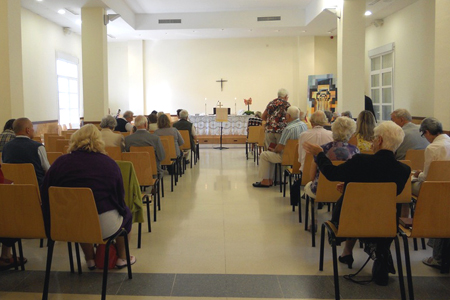 Was the worship stiff-upper-lip, happy clappy, or what?

Very relaxed and informal, with the minimum of ceremony. It was basically the Common Worship Order One service in modern language, with an extra dollop of hymn singing. Canon Alan was simply vested in a white cassock and a cream stole and his lay reader wore a blue stole over his white cassock. Canon Alan obviously enjoyed singing hymns because, at his request, we sang one twice over! Some hymns were what you might call "happy clappy" and some were traditional, so there was something for everyone in this gathering of people who obviously came from a variety of backgrounds and traditions. The congregation sang lustily and there was an engaging atmosphere, that reflected their desire to congregate together and worship the Lord. The exchange of the peace must have been one of the longest exchanges I have witnessed – I think some people had greeted every person in the hall!


Exactly how long was the sermon?

25 minutes.


On a scale of 1-10, how good was the preacher?

9 – The charismatic Mr Latham had a droll sense of humour and made several jokes throughout his talk. He had already written out his address and I was impressed to see he had written it on an iPad!


In a nutshell, what was the sermon about?

He had once visited an elderly lady who was doing very poorly. However, when she came to believe in Jesus, she was miraculously cured. We should believe in the life-changing power of Jesus. In the gift of baptism, God gives us eternal life, which is the life in his Son. If we believe in Jesus, who asks us to love one another as he has loved us, we will have eternal life in the kingdom of God.


Which part of the service was like being in heaven?

The enthusiastic joyful singing of the entire congregation was delightful. It is always so wonderful to witness how Anglicans who live or spend a lot of time in foreign lands manage to form their own church. The joy these people showed in their worship of God was most moving and uplifting.


And which part was like being in... er... the other place?

I began praying for a better pair of ears because there were a few times when I had difficulty making out what the guest speaker said. It was probably the acoustics of the hall, but I think I missed a few of his jokes.


What happened when you hung around after the service looking lost?

There was no chance of looking lost! People were eager to chat and I enjoyed talking to Canon Alan.


How would you describe the after-service coffee?

The congregation normally retires to the Ruta de la Plata cafe, just around the corner. I was invited to join them there, where I enjoyed a convivial chat and a glass of ice-cold water.


How would you feel about making this church your regular (where 10 = ecstatic, 0 = terminal)?

9 – If I were lucky enough to live here I would undoubtedly want to worship with this friendly group of people, and would want to take an active part in all their activities.


Did the service make you feel glad to be a Christian?

The minute I walked through the door I knew I was in God's house. I left it feeling elated.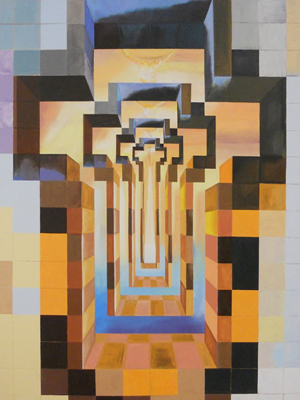 What one thing will you remember about all this in seven days' time?

It must be the warm welcome I received from Canon Alan and many of the congregation. I hope many other visitors to the area manage to find this oasis of joyfulness.