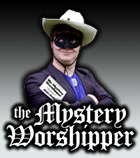 Comment on this report, or find other reports.

Our Mystery Worshippers are volunteers who warm church pews for us around the world. If you'd like to become a Mystery Worshipper, start here.

Find out how to reproduce this report in your church magazine or website.
1454: Christ's Commission Fellowship, Ortigas, Mandaluyong, Philippines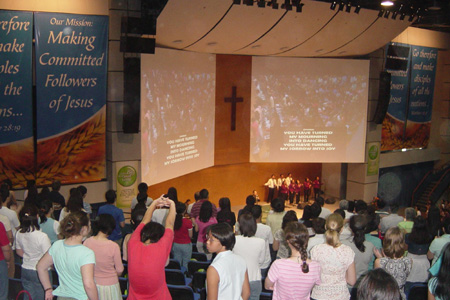 Mystery Worshipper:
Pewpotato.

The church:
Christ's Commission Fellowship, Ortigas, Mandaluyong, Philippines.

Denomination:
Non-denominational (evangelical).

The building:
A new worship and training centre is in the planning stages, but for now they meet in an auditorium on the top floor of the mall called St Francis Square, known for its over 1000 stalls staffed by entrepreneurs offering everything from cheap novelties and regional foodstuffs to bargain priced cell phones and (perhaps pirated) DVDs. The auditorium is fan-shaped and huge, with about 2500 to 3000 seats. You can get to the auditorium via the escalators, if you don't mind mingling with the shoppers.

The church:
They claim a membership of 12,000 and as such are one of Manila's fastest growing churches. The church is composed of people from all walks of life. There are two other megachurches in the area, also claiming membership in the thousands.

The neighbourhood:
Ortigas Centre is the greater Manila area's second most important business and commercial district, featuring several international corporate headquarters, shopping centres, hotels, and the Philippine Stock Exchange. Quite a posh area! The church is a block away from the Asian Development Bank complex.

The cast:
The Revd Peter Tanchi, senior pastor; Isong Nolan, worship leader.

The date & time:
27 May 2007, 8.00am.

Comment:
We have received a comment on this report.


What was the name of the service?

Sunday Service.


How full was the building?

Half full at the start of the service. Toward the middle of the singing there were still a great number of empty seats. Then at the end of the sermon (which was almost an hour long), the church was quite full. I'd say about 2000 people were present. As I was leaving at the end of the service, I noticed people awaiting the next service crowding the small lobby.


Did anyone welcome you personally?

No one. As in no one! It's hard to be noticed in a sea of people. Perhaps the ushers thought I was a regular. I came and went having met no one. I admit, though, when the worship leader asked first time guests to stand, I remained seated. I don't like the idea of cameras zooming in on me and flashing my face on the two giant screens!


Was your pew comfortable?

Chairs. Padded. Small. I guess they're made for regular-sized Filipinos. As I looked around I saw several larger people struggling to fit in their seats. I guess they forgot about the foreigners when they picked the chairs. They were also too close together. I thought of moving to an emptier section but didn't want to look conspicuous.


How would you describe the pre-service atmosphere?

Chaos reigned supreme in the lobby! It was such a small lobby. Kids running around. Boisterous laughter, loud shouts, etc. Inside the auditorium I finally found peace to meditate before the service, but as people began streaming in my meditative mood evaporated.


What were the exact opening words of the service?

"Good morning! Let's stand and worship the Lord through singing."


What books did the congregation use during the service?

None. Some brought personal Bibles, some didn't. Bible readings and songs were flashed on the screen the whole time.


What musical instruments were played?

Three keyboards, two guitars, bass and drums accompanied the worship team of about a dozen people.


Did anything distract you?

Faces of worshippers flashed on the screen. A lady two or three rows in front of me was doing some stretching – either yoga or the newer regimen known as pilates, I don't really know. I snapped her photo! And there was a man who sang loudly and clapped – too bad it wasn't on key or to the beat!


Was the worship stiff-upper-lip, happy clappy, or what?

It was definitely happy-clappy! Folks were swaying, waving their arms, clapping, almost dancing. It was billed as a contemporary service but the songs were not new – perhaps about 10 to 20 years old, more "praise and worship retro style." (The worship leader did look a bit old to me, maybe in his 50s.) In fairness though, the band sounded great! They all seemed to be professional musicians. Amazing!


Exactly how long was the sermon?

50 minutes.


On a scale of 1-10, how good was the preacher?

6 – Pastor Tanchi's Chinese accent was quite thick, but his sermon was very impressive. I had heard that the popularity of this church is due in large part to the pastor's sermons – that's why people keep coming back. He cracked a few jokes here and there but honed in on his final point. I did find it odd, though, that he chose to preach about God from the Book of Esther, the only book in the Bible that never mentions the word "God."


In a nutshell, what was the sermon about?

The omnipotent sovereign God holds lives and history in his hands.


Which part of the service was like being in heaven?

The music – incredible retro praise music! The sermon – long but interesting! The crowd – a multitude no one could count!


And which part was like being in... er... the other place?

The music was great but there was a lot of it – we spent about 40 minutes singing on our feet! Also, it was disconcerting to think that here we were, worshipping on the top floor of a mall where the majority of goods sold are quite possibly counterfeit.


What happened when you hung around after the service looking lost?

Had I hung around I would have been trampled! The crowd pushed everyone along toward the escalators.


How would you describe the after-service coffee?

I thought I smelled coffee brewing but never tasted any.


How would you feel about making this church your regular (where 10 = ecstatic, 0 = terminal)?

5 – It was just too big a church for me. I might have thought differently had there been a proper welcome.


Did the service make you feel glad to be a Christian?

Yes. I'm always glad I'm a Christian. But retro contemporary praise – I guess that makes me an old Christian!


What one thing will you remember about all this in seven days' time?

Pastor Tanchi telling us in his thick Chinese accent that God is sovereign and powerful.



We rely on voluntary donations to stay online. If you're a regular visitor to Ship of Fools, please consider supporting us.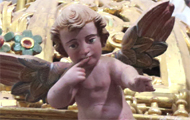 The Mystery Pilgrim

One of our most seasoned reporters makes the Camino pilgrimage to Santiago de Compostela in Spain. Read here.



London churches

Read reports from 70 London churches, visited by a small army of Mystery Worshippers on one single Sunday. Read here.