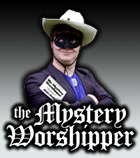 Comment on this report, or find other reports.

Our Mystery Worshippers are volunteers who warm church pews for us around the world. If you'd like to become a Mystery Worshipper, start here.

Find out how to reproduce this report in your church magazine or website.
1417: Bethel International Baptist, Frankfurt am Main, Germany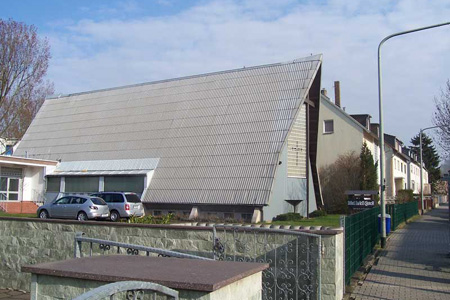 Mystery Worshipper:
St Lumpy.

The church:
Bethel International Baptist, Frankfurt am Main, Germany.

Denomination:
Baptist, a member of the International Baptist Convention.

The building:
The building is an older A frame of 50s or 60s vintage. It doesn't really stand out.

The church:
Bethel is an English speaking church organised in 1958 to minister to American military personnel stationed in Germany. Since then it has extended its outreach to all Christians whose own denominations may not have established English-speaking parishes abroad, and encourages all to participate in the worship, life, fellowship, ministries and support of the church. In addition to the Sunday service, prayer meetings and Bible study are conducted throughout the week. "Work days" are scheduled as needed, on which members are asked to pitch in and help with repair work and other chores. On the day I attended, I observed a nice mix of ethnic groups, with some people in suits, others in business casual, and still others in casual wear. It was quite a diverse congregation.

The neighbourhood:
Frankfurt is said to be the largest financial centre on the European continent and the most cosmopolitan of all German cities. Almost one-third of the population do not hold German passports. The neighbourhood where Bethel is located is on the outskirts of the city and is very nice. It is about a five minute walk from the end of the U5 train, but if you prefer you can take Bus 39, which will drop you off right in front.

The cast:
The Revd Doyle Searcy, pastor.

The date & time:
25 March 2007, 10.00am Bible study and 11.00am worship service.


What was the name of the service?

Morning Worship.


How full was the building?

Half full.


Did anyone welcome you personally?

I showed up early for the worship service but late for the Bible study. The pastor welcomed me and asked if I wanted to go join the Bible study in progress down in the basement. A gentleman named Karl was teaching the small class of about 10. He was most welcoming, asking me to join in the conversations and making me feel like I was at my home church. I was even asked to give the closing prayer. As we went upstairs to church, nearly everyone came up and introduced themselves and welcomed me. I also noted how they greeted each other. It was a community that you can tell really loves and cares for each other.


Was your pew comfortable?

The seating was comfortable.


How would you describe the pre-service atmosphere?

During the pre-service, a couple in front of me turned and talked to me. We discussed my business trip there and how they ended up as Americans in Germany. It was a friendly relaxed atmosphere.


What were the exact opening words of the service?

"Good morning."


What books did the congregation use during the service?

The Holy Bible, New International Version, hymn book, song sheets.


What musical instruments were played?

Piano, with Pastor Searcy leading the singing. He sings well and belongs to a group called the Centurymen.


Did anything distract you?

Nothing in the service or the room, just my own jet lag.


Was the worship stiff-upper-lip, happy clappy, or what?

There was a mix of hymns and contemporary songs. This is usually not my style of worship, but I have to say I really felt the Spirit was there.


Exactly how long was the sermon?

45 minutes.


On a scale of 1-10, how good was the preacher?

9 – The pastor taught from the Bible. He was funny, informative and quite moving.


In a nutshell, what was the sermon about?

Our role as Christians is to reach the world. This is a Baptist church, but it's unlikely we'll be asked what denomination we were when we meet God. We will instead be asked what we did with Jesus, who is called the Christ.


Which part of the service was like being in heaven?

The whole experience. It was obvious that this church is Christ centered and that the Holy Spirit is active and alive there.


And which part was like being in... er... the other place?

The basement where the Bible study was held is quite industrial looking.


What happened when you hung around after the service looking lost?

After the service, the couple in front of me, Karl (who led the Bible study) and his wife, the pastor and others came up and asked me about myself, my job, my church, and what led me to their church. Then they filled me in on how they came to be in Germany, their jobs, etc. It was very open and friendly.


How would you describe the after-service coffee?

There was coffee, cookies, juice – whatever the people had brought with them to share. Quite acceptable in my book. I don't go to church for the coffee.


How would you feel about making this church your regular (where 10 = ecstatic, 0 = terminal)?

10 – I don't live in Germany, but rather was there on business. But if I lived there, I would love to be a part of this congregation. I highly recommend anyone in the area looking for a church or just visiting for a week like I was to come by for the Sunday service.


Did the service make you feel glad to be a Christian?

Yes, very much so.


What one thing will you remember about all this in seven days' time?

I'm submitting this report a month later but still remember the people, the message, the feeling of being in God's presence.



We rely on voluntary donations to stay online. If you're a regular visitor to Ship of Fools, please consider supporting us.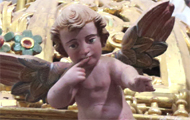 The Mystery Pilgrim

One of our most seasoned reporters makes the Camino pilgrimage to Santiago de Compostela in Spain. Read here.



London churches

Read reports from 70 London churches, visited by a small army of Mystery Worshippers on one single Sunday. Read here.