What was the name of the service?
11.00am Communion Sunday Worship Service.

How full was the building?
A sell-out crowd, bulging at the seams! I felt like I was in the back seat of a compact car with four other people squeezed in.

Did anyone welcome you personally?
As I walked into the building, I was snatched up by someone who transported me up the elevator and into the "foreign" section of the church (in the right field nose-bleed seats). Someone asked me where I was from and if it was my first time here. It was a very mechanical and functional first impression.

Was your pew comfortable?
Though the pews had brown leather foam, they were still hard on the butt. We were in there like a tin of Brunswick sardines. The leg room was almost non-existent.

How would you describe the pre-service atmosphere?
There's a pre- worship gospel time. I arrived at 11.00am and they were pretty well warmed up.

What were the exact opening words of the service?
I was stuck in the elevator and they began the actual service a few minutes before 11, so I missed that part.

What books did the congregation use during the service?
There was a hymn book (in Korean and English) and a Bible.

What musical instruments were played?
Organ, piano, synth, guitar, drums, flute, clarinet, sax, tambourine... and a symphony orchestra.

Did anything distract you?
The TV cameras were very distracting. I kept thinking of Daniel Amos's "Alarma Chronicles." The guy next to me was sleeping soundly during the sermon.

Was the worship stiff-upper-lip, happy clappy, or what?
It was very hearty. The singing reminded me of a Wesleyan tent revival meeting. But the prayer times got very rowdy. I felt a tad uncomfortable.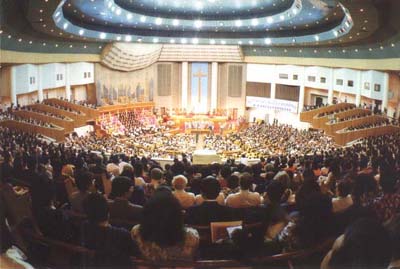 Exactly how long was the sermon?
30 minutes.

On a scale of 1-10, how good was the preacher?
3 – He spoke with much passion, but it was not a very engaging sermon, IMHO.

In a nutshell, what was the sermon about?
He preached on Noah, and God's covenant with people, the symbol of this being the rainbow. Also, that Jesus is our rainbow.

Which part of the service was like being in heaven?
The opera star soloist in the choir must have been kidnapped from the New York Met. The communion was also very moving. Being welcomed to break bread with 12,000 people was very beautiful.

And which part was like being in... er... the other place?
The translation headphones cut out for the first five minutes of the sermon. The TV cameras everywhere... Big Brother was definitely watching this service.

What happened when you hung around after the service looking lost?
A university student sitting next to me engaged me in conversation. She was very kind. Then, I was invited to a "Foreigner's Seminar" about the church. Thirty of us were ushered into a multi-media room in a different building and given coffee. An American woman asked us to introduce ourselves and then gave us a canned speech about the pastor and the history of the church, complete with a video presentation. I met two guys from Indonesia and a family from the Congo who were working in China. The other visitors were much friendlier than the church staff.

How would you describe the after-service coffee?
We were given a paper cup of coffee and a cookie. I've tasted better.

How would you feel about making this church your regular (where 10 = ecstatic, 0 = terminal)?
1. This church is too impersonal. I've heard that they have house groups, which may make a difference for some people, but a membership of 837,569 is a tad big for me personally.

Did the service make you feel glad to be a Christian?
Sort of, but there was just too much slot machine theology – "you will be blessed and healed," etc. I thought it was very much a liturgy of noise.

What one thing will you remember about all this in seven days' time?
After the service, on my way out, I was able to receive an influenza shot from a nurse for only $4. I was very touched by their thoughtfulness (there is presently a flu bug going around the city).