What was the name of the service?
The Eucharist.

How full was the building?
When we arrived five minutes before scheduled kick-off, the church was almost empty. We needn't have worried – no services start on time in Polynesia! The building was eventually about 80 per cent full.

Did anyone welcome you personally?
Yes – someone welcomed us and gave us the service and hymnbooks. Fr Richard also spotted us visitors from the vestry and came over to introduce himself.

Was your pew comfortable?
Standard pews, but with adequate leg room.

How would you describe the pre-service atmosphere?
Families chatted cheerfully as ever more people kept on arriving.

What books did the congregation use during the service?
The order of service, "Hymns Ancient & Modern", and a Samoan hymnal.

What musical instruments were played?
An electronic organ which tried (unconvincingly) to sound like a pipe organ, or (convincingly) like a string quartet.

Did anything distract you?
No.

Was the worship stiff-upper-lip, happy clappy, or what?
Moderately high Anglican (bells but no smells). It was good to see extended post-communion prayers and blessing for individual members of the congregation who were about to travel, were sick, or just had birthdays that week.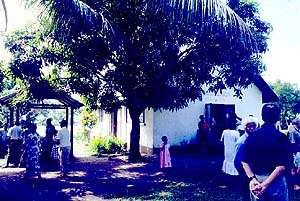 Exactly how long was the sermon?
18 minutes.

On a scale of 1-10, how good was the preacher?
8.

In a nutshell, what was the sermon about?
Jesus promised us his yoke would be easy and his burden light. As the church now, we need to ensure that we behave likewise to all our brothers and sisters.

Which part of the service was like being in heaven?
The Samoan hymns, which were sung in traditional full harmony by the whole congregation.

And which part was like being in... er... the other place?
None.

What happened when you hung around after the service looking lost?
We were invited to join the entire congregation who decamped to the church fale (a thatched, open-sided building) for coffee, cakes, fresh fruit and animated conversation, which went on till lunchtime. Several people, included Fr Richard, offered us a lift back to where we were staying.

How would you describe the after-service coffee?
Fine – as was the cake – as was the fruit.

How would you feel about making this church your regular (where 10 = ecstatic, 0 = terminal)?
9 – it was good to worship with a flock whose pastor obviously knew and cared for them by name.

Did the service make you feel glad to be a Christian?
Very much so.

What one thing will you remember about all this in seven days' time?
Being made welcome so unselfconsciously.